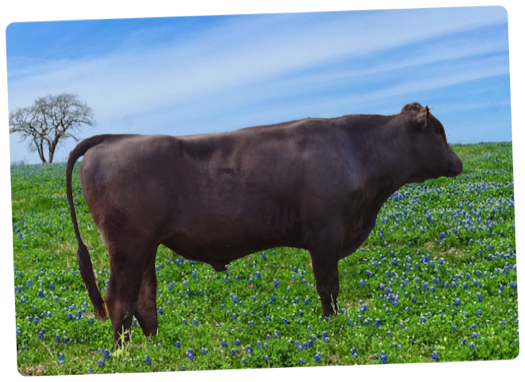 Here's a bull that will add frame and milk, traits that are generally lacking in our predominately Tajima-based Wagyu population in the U.S. #87's sire, Shigefuku, is the only line-bred Kedaka bull of the original imports and the only one with 75% Kedaka genetics. Raised in Tottori prefecture, the bull Kedaka is noted for producing the most outstanding cow lines. Shigefuku's semen brought the highest price ($1,600/straw) of any black bull in the "Primetime in the Sunshine" Wagyu Sale held on 10.24.15 and Shigefuku sired embryos were the top embryo lot. According to information published by the Australian Wagyu Forum...
~ There has been a shift in Japan back to larger, Kedaka line sires for balanced growth and marbling.
~ Seven of the top 10 bulls for feeder production in Japan as of 2010 were from Shigefuku's half-brother, Hirashigekatsu.
~ The superior Kedaka cow is valued above all others in Japan.
On the maternal side, #87 offers more excellent foundation genetics from his grandsire, Itoshigenami. Based on thousands of actual carcass evaluations conducted to date, Itoshigenami has now surpassed Michifuku as the TOP RANKED FOUNDATION BULL for marble score in the Australian Wagyu Association's EBV's. We consider this to be the most comprehensive and meaningful database for comparing the foundation animals.
This young bull has excellent conformation, a super-sweet temperament, and below-average birth weight genetics. He is 100% full blood Wagyu and registered. A limited supply of semen is available - priced at $50/straw, F.O.B. Elgin, TX.
Contact Chisholm Cattle Co. to order Wagyu semen.
★ Full brother to top selling lot ($21,000) in the 2018 TX Wagyu Sale ★